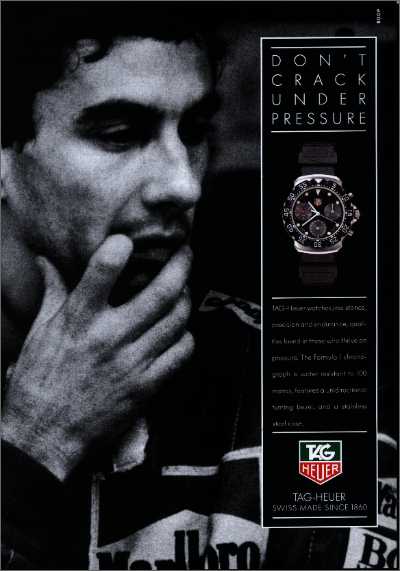 I have noticed that people from other nations think that the love Brasilians have for Ayrton is typical nationalism, similar to Englishmen to Mansell or Germans to Schumacher.

Maybe these quotes will show the difference:
"Habituado a ser um perdedor no dia-a-dia, enganado a toda a hora, desprezado, até axincalhado, o brasileiro - qualquer que seja a sua classe socio-economico-cultural - sentia em Ayrton o orgulho de ver um brasileiro ser bem-sucedido, ferozmente determinado e admirado em todo o mundo." - Francisco Santos

"Used to be a loser in the everyday life, cheated constantly, despised, even humiliated, the Brasilian - from whatever socio-economic-cultural class - felt in Ayrton the pride of seeing one Brasilian being successful, fiercly determinated and admired in all the world."

"Ele deu-nos dignidade, e ve-lo numa corrida era um escape de toda a corrupcão, miséria e pobreza que nos rodeia." - Fernandes Machado Lemos, estudante brasileiro.

"He gaves us dignity, and seeing him in a race was an escape from all the corruption, misery and poverty that surround us."
(I wrote the english translations. If you don't agree with them mail me your corrections.)
---
I would like to use in this page one or both of 2 images: the one from the Heuer ad "Don't crack under pressure" (I got this one already) and a photo of Senna at the place of Ratzemberger's crash. If you know where I can find them mail me...
---
The 'S' Files
Senna's death trial (Federica's translations)
A tribute page(includes a photo of the broken steering column)

The trial in "La Gazetta dello Sport": 28 febbraio; 5, 12, 17 e 18 marzo;
February: 28 ,
March: 05 , 12 , 17 , 18 ,
April: 02 , 15 , 16 , 22 , 24 , 28 , 29 ;
May: 06 , 07 , 13 , 14 ; Enviar sugestões para (send suggestions to) Rui Salgueiro, rps@mat.uc.pt