Metz 40 MZ-2: controls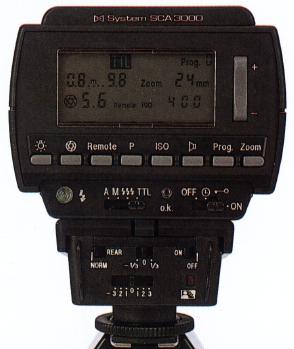 Usually the flash receives from the camera via the SCA 3000 adapter the aperture, film speed and focal length being used. But you can change them using the buttons labeled + and - on the right side of the LCD.
Just below the LCD from left to right:
The button labeled with:
a lightbulb symbol iluminates the LCD.
an aperture symbol allows you to set the aperture manually.
"Remote" is for using the flash in remote TTL mode. You will need 2 40 MZ-2 (one of them using a SCA 3080 adapter) or a 40MZ-2 and a 50 MZ-5. If used with a Minolta camera the 40 MZ-2 or 50 MZ-5 can be controlled by a SCA 3301 from a Minolta flash (even built-in).
"P" allows the setting of partial power (from 1/1 to 1/256 in steps of 1/3 stop).
"ISO" changes the film speed.
a loudspeaker symbol allows to change the behavior of the alarm. You can turn it off, make him beep when the flash is charged, when the exposure is correct, etc...
"Prog": this flash can keep your settings in 10 different memories. This button allows access to them.
"Zoom": this allows you to change coverage (from 24mm to 85mm).
Second line of controls (from left to right)
Flash ready
Sliding switch with 4 positions:

"A" - the flash works in auto mode (also called "computer" mode) using the built-in sensor. You can use 12 different apertures (which apertures depend on the speed of the film). Compare with "TTL".
"M" - manual mode.
Triple flash symbol. This is strobo mode. In this mode the ISO and loudspeaker keys are redefined to mean number of flashes (2-20) and Hz (1-40). This works in manual only.
"TTL" - the usual with modern cameras. The camera measures the light that reaches the film and orders the flash to stop when enough light has arrived.

Exposure OK indicator.
General switch with 4 positions

"OFF"
timer symbol. The flash will turn itself off after some time without use.
ON - normal working mode
Key symbol - all the buttons except the one that iluminates the LCD are inoperative. This is to prevent accidental misconfiguring.