New Pentax 35 mm SLR !!!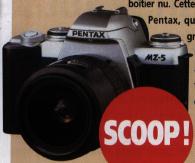 The exclamations marks are justified, since recently the only announcements at Pentax have been discontinued (LX) or downgraded (Z-20 -> Z-70) models.
The new Pentax is called the MZ-5 (remember the M-series ?). (except in the USA where it will be called ZX-5). It seems to be a reply to the Minolta 600si Classic (controls) and to the Canon 50 (metal-looking top).
And also a preemptive strike against the APS gang, proving that it is not necessary to reduce the size of the negative to make small cameras.
Main features:
Small and light (415g, 135 x 90 x 61.5 mm)
There are no specific (sport, macro, portrait, landscape) program modes, only one "A" position on the shutter speed _dial_ (1/2000 - 2s + B). The program mode is not shiftable.
the shutter seems to be equal to the one on the Z-20, Z-50p and Z-70 (flash sync at 1/100), but long speeds (4s - 30 s) are not available (?) in manual mode due to the (classic) way in which speeds are selected.
exposure: matrix (6 zones), spot and centerweight (available in all modes. On the Z-20 the spot was only available in manual mode).
exposure compensation
manual ISO setting (ISO 6-6400) and DX (25-5000).
autofocus: _wide_ center sensor (at last !). The user can also select spot AF.
integrated flash (GN=11, coverage: 28 mm)
The hot-shoe is moved back to the top of the prism. So the built-in flash (RTF) can not open when a flash is mounted. To overcome this problem an "optional hot shoe plus adapter" will be available. I suppose this adapter will move the external flash high-enough that the RTF can open.
The new cables and adapters.
The top plate is metal looking plastic :(
In Japan (only ?) a version with a black body was added one month after introduction. I don't know if this would be available in the rest of the world.
The lens mount seems to be metal.
Note the AF/MF switch. No servo mode (continuous focusing), but the camera has predictive focus.
The low weight is suspect with regard to the amount of metal on the body. The viewfinder doesn't use a prism, but mirrors.
It has a panorama mode.
shipping date in France - beginning February 1996
shipping date in England - March 1 1996
shipping date in Japan - Nov. 23 1995 (if somebody from Japan is reading this and can add information, please mail me.
a grip with alcaline (1.5 V AA) batteries will be available. The normal batteries are 2 small lithium CR2. I think this type of bettery is hard to find.
Price: approximately 4500 FF (French Francs) (with 28-70/4). If you look at the currency rate that means $900 USA, which probably means that it will sell at the New York mailorders at $500-$600. For comparision a Pentax Z-70 with the F 35-80/4-5.6 costs 3000 FF, and a Z-1p body costs 5500 FF (normal prices, not the special Christmas rebates).
UK price: 640 pounds with the 28-70/4.
Japan price: list: 74000 yen body only, street: -~20% (~60000)
A review by Laurens de Jong and another by Paul Frankenstein.
some questions:
Are slow speeds (4s - 30s) available without using B ?
Only in aperture priority or program mode.
Is it possible to select speeds in half-stops increments ?
depth-of-field preview ?
No
mirror lock up ?
No
Continuous focusing (servo mode in Pentax speak)
No. The camera has predictive focus.
flash compensation ?
It seems not. Maybe using the exposure compensation and manual exposure mode ?
Electronic or mechanical cable release ?
An electronic one (uses the same F cable as the Z and SF-series). This was confirmed by Pentax.
(the shutter seems to be electronic and the shutter button doesn't have an hole).
Exposure memorization ? No. This means that in automatic mode (P, Av, Tv) the spot metering and the center-weighted (which are available in all modes) are near useless.
At the launch of this camera a 28-70 mm f/4 (constant) AL (Aspheric) lens will also be presented. This lens will be a FA, but it has not a power-zoom.
Anyway the MZ-5 don't seem to be able to control power-zooms. By this I mean that the camera probably doesn't have the modes present in the Z-20 and Z-50p (constant subject size, zoom effects, and focal length memory).
But it has the power contacts necessary to use power-zoom lenses. Pentax keeps strong in the backwards-compatibility. Other lenses that will be launched at the same time are:
FA 100-300 mm/4.5-5.6 (manual zoom)
FA soft focus 85mm/2.8
The magazine suggests that this is only the first camera on a new line, so others MZ-? should appear later. I wonder what this means for the Z-line (I would like to still see a medium-level camera, that is, an upgraded Z-20).
Very short articles on this camera have appeared in:
Reponses Photo, December 1995 issue (from where I took the photo), and January 1996.
Chasseur d'Images, December 1995, and January-February 1996.
Buying Cameras, December 95 (UK) (I have not yet see that magazine)
Amateur Photographer, 2 December 95 (UK)
Reviews:
Amateur Photographer, 23 December 95 (UK) has a very positive review on it:

Handling: 28/30
Performance: 27/30
Specification: 17/20
Value for Money: 17/20
Overall: 89%

Reponses Photo, February 1996. Not very positive (lack of depth-of-field preview and lack of exposure memory, this last makes spot metering and center-weighted near useless in automatic modes).


	Pros			Cons
	Matrix metering		No exposure lock *4
	Autofocus Spot		No depth of-field preview *4
	 with blocking *1	Bad viewfinder *2
	Manual Mode
	Diopter correction
	 on the viewfinder
	Simple handling
	Compact
	Very readable
	 viewfinder *3
	KAF-2 mount (compatibilities)


Chasseur d'Images, March 1996.
Not a very good review:

Possibilities/price: ***
ergonomics: ****
exposure: ****
flash: *****
autofocus: ***
quietness: **
lenses: ****
accessories: ***
Cote d'Amour: ***


	Pros				Cons
	Compactness			No exposure lock
	Simplicity			single sensor for TTL flash
	Very good built-in flash	No continuous AF *5
	wide AF sensor			No depth of field preview
	good exposure system
    

Pentax lost a lot of impact for not having the camera ready for testing in time for the previous issue. The cover of the magazine was filled with APS.

They were not impressed with the camera. They didn't find it much better than a Z-70 (I disagree. Wide AF sensor, spot metering, manual ISO override and a metal lens mount are important features.)

On the other hand it can not replace a Z-1p, both in features and in ergonomics. They stretched that a Z-1p user will not be happy to give up hypermanual and hyperprogram. I hope Pentax is listening to this and doesn't discontinue the Z-1p when a MZ-1 is launched (the Z-1p is now in promotion in France which is suspicious). A Z-1p with the updated AF system would be great.
My comments:

*1 The biggest technological improvement of this camera is the wide sensor, and they are happy because it is possible to get back to the narrow sensor ? I am surprised (unless this is because with the wide sensor it gets confused too many times ?)

*2 Pentax replaced the prism by mirrors to save weight, like other brands do in the low-end.

*3 This seems to be in contradiction with *2, but maybe they are talking here about a very complete viewfinder with shutter speed, f/stop and exposure correction all shown on it.

*4 It is interesting to notice that the 2 big problems with the MZ-5 were already the big shortcomings in the Z-20. "Plus ça change, plus c'est la même chose".

*5 the 2 cameras that compete with the MZ-5 (Minolta 600 si and EOS 50) both have it. Only Pentax thinks that continuous AF is only for the top model. And all that for saving the cost of a 3-position switch. The camera has software for AF anticipation which is probably more complex than continuous focusing.

Acknowledgments: The info above was mostly taken from the magazines mentioned. Maekawa Noriyuki sent the info related to Japan. Laurens de Jong, apart from writing his review also answered some questions. David Poon (Pentax marketing) gave the info about the flash adapter.


Some reactions on the mailing list:
**********************************************************************

> The new Pentax is called the MZ-5 (remember the M-series ?).
> It seems to be a reply to the Minolta 600si Classic (controls)
> and to the Canon 50 (metal top).

From: paulf@hk.super.net (Paul Frankenstein)
> Cool. Rather, Cool!

From: derbyc@tplrd.tpl.oz.au (Derby Chang)
> Cool.  Any idea on:

So I think we all agree that this new camera is cool :)


> Sounds like hyper-program and hyper-manual are gone, right?

So it seems on this camera. The idea seems to be to have classical
controls (shutter speed on the left dial and aperture on the lens).

Another thing that we lose is the possibility of selecting a fixed
aperture with a variable aperture zoom. That is, in a Z-series camera
with a 28-80/3.5-4.7 you could put the camera in aperture priority,
select, for instance, f/5.6 using the wheel in the body and have this
selected in all focal lenghts. This is no longer possible, which
probably explains why the last Pentax zoom is a 28-70/4 (constant) and
not a 28-70/2.8-4 like one Sigma lens.

From: paulf@hk.super.net (Paul Frankenstein)

> But overall, the whole idea of a back-to-basics AF SLR sounds like very
> good news, particularly since they improved the AF (but can it focus on
> horizontal lines?).

Yes !

* Now, where do you tink I got this info ? A message in Pentax-announce ?
* The Pentax Web site ?
* No, from a French magazine (Reponses Photo #45, December 1995 (sic))!

> Well, they probably have a mole inside Pentax... or Pentax Europe has an
> over-enthusiastic PR guy... one of the two... But you are right to say that

More probably they (Pentax manufacturing) missed the deadline for
Chri$tma$, and the announcement is to try to make some people delay
their buying decisions until this camera is avaliable.
This is a standard tactic in marketing.

Another possible reason for the silence on-line is that the homepage
and the mailling lists are based in America and the new products are
usually available first in Europe (looking at the prices in both
continents, you may guess why).

* They suggest that this is only the first camera on a new line,
* so others MZ-? should appear later. I wonder what this means for
* the Z-line (I would like to still see a medium-level camera, that is,
* an upgraded Z-20).

> I suspect that the MZ-5 will be the "mid-range" camera, and it will serve
> as something of a test-bed for the high-end stuff. In any event, it does
> fill a hole in the Pentax line-up.

I think the people's tastes are different enough that it would make
sense to have 2 medium-level cameras. One with classical controls
(MZ-5) and another with the shiftable programs and hyper-manual,
like the Z-20 had.


---
In my photo homepage there is more info on Pentax.