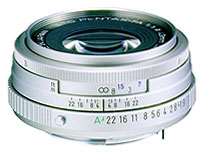 Here is a photo of this metal beauty, which resembles in appearance the Ziess 45mm lens for the Contax G2, down to the metal focus ring:
A translation of the information on this Japanese page (the following information is from Dario Bonazza, (via John Tollefsrud) which can be seen on the current Pentax Forum discussion archives at www.Pentax.com):
SMC PENTAX-FA 43mm f/1.9 Limited
September 11th, 1997
A new intriguing lens has been released today in Japan by Asahi Opt. Co. It is the SMC PENTAX-FA 43mm f/1.9 Limited.
You see at first look it is a special item. An unusual focal length, compactness, high quality metal construction with satin chrome finish, everything reminds of a time when mechanical build was considered as much important as optical quality. However this is an autofocus lens, compatible with Pentax autofocus and manual focus SLR's, past and present.
When introducing this new lens in its Japanese website Pentax claims:
The focal length is appropriate for giving natural perspective. The lens uses expensive glasses having high refractive index. It employs the multi coating for reducing ghost images and flare. All the outer parts are made of metal. Some friction of the focusing and aperture rings provide good feeling. It is short in length and balances well with the MZ-series bodies.
Specifications to be highlighted are:
Lens mount: Pentax K-AF
Construction: 6-groups, 7-elements
Field of view: 53°
Minimum aperture: f/22
Minimum focusing distance: 0.45m
Maximum magnification: X 0.12
Filter size: 49mm
Dimensions: 64mm (D) x 27mm (L)
Weight: 155g
Price (with case and hood): 69,500 Yen
Sales start: October 10th, 1997
Production volume: 200 units/month

It is believed this is a test lens, probably introducing a new luxury family of lenses and a new high class SLR body matching them. In any case we will see interesting stuff from Pentax in the next few months.