Welcome to the website of the Workshop on Category Theory, in honour of George Janelidze, on the occasion of his sixtieth birthday.

The workshop will be held at the University of Coimbra, from July 9 to July 13, 2012.



Group Photo
Click here to see the group photo.
Special Volume
Applied Categorical Structures will publish a special volume in honour of George Janelidze.

Guest Editors: M. M. Clementino, M. Gran, M. Sobral, R. Street, W. Tholen.

How to submit: Send a pdf file of your paper to M. Gran. When submitting the article please indicate which Guest Editor you would like to handle your paper.

Deadline for submission: 31 October 2012.


Scientific programme

The scientific programme, consisting of 49 contributed talks in all aspects of Category Theory, is available here.
For the list of abstracts and the slides of some talks click here.
Support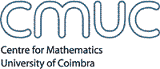 Project PTDC/MAT/120222/2010