Travel Information

The conference will be held at the University of the Azores. The University is located in the city of Ponta Delgada, in São Miguel Island, a few minutes walking distance from the historical city centre. Ponta Delgada is the capital of São Miguel, the main island of the Azorean Archipelago, situated in the mid-northern Atlantic.

The international airport of São Miguel (Aeroporto João Paulo II) is also in Ponta Delgada, just 3km away from the University. It has daily flights to the other islands and to the Portuguese mainland (Lisbon). It also provides frequent non-stop flights to Oporto, to several European cities (Frankfurt, MUnich, Madrid, London, Manchester, Paris, Amsterdam and Zürich) and to some North American cities (Boston, Providence, Toronto and Montreal).

The azorean air company SATA in its regional (SATA Air Azores) and international (SATA International) versions offers the most widespread possibilities coming here. In some cases the company operates in code-sharing with the TAP, another portuguese company that is also member of the STAR-Aliance group.

From Europe to Ponta Delgada, the most common way to travelling is via Lisbon (Portugal) or OPorto (Portugal) and there take a connection flight operated by SATA International or TAP. These flights connect Ponta Delgada twice times per day to Lisbon or between 3 and 5 times a week (dependent on the season) to Porto.

From the American continent to Ponta Delgada, the easiest way to travel is by one of the non-stop flights from the USA cities Boston (four times a week) and Providence (weekly) or the Canadian cities Montreal (twice a week) and Toronto (twice a week) all with the SATA International. As an alternative route you can take one of the weekly flights to the neighbour Azorean island Terceira from Oakland, Boston and Toronto and then take a connection flight to Ponta Delgada (it takes about half an hour).

For those who are interested in knowing another Azorean islands, it would be an alternative to enter or leave the archipelago by Terceira island (at least one daily connection to Lisbon/once per week to Porto), Faial island (daily connection to Lisbon), Pico island (a weekly connection to Lisbon) or Santa Maria island (a weekly connection to Lisbon). Among all nine Azorean islands SATA offers at least a daily flight.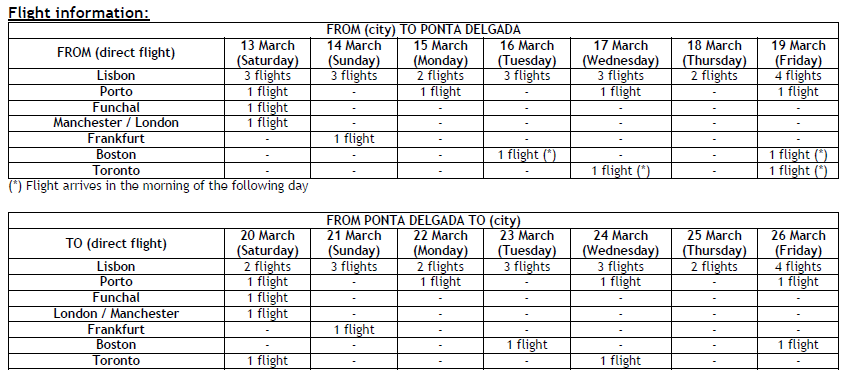 Viagens Abreu (Abreu Destination Management - Azores Office) offers the following rates for those flights:





Contact: Florinda Antunes
Viagens Abreu
fantunes.matriz@abreu.pt
Tel: (+351) 296 304 460
Fax: (+351) 296 304 467