The event takes place at the Complexo Interdisciplinar - Amphitheatre - located in the main campus of Instituto Superior Técnico (IST) in Lisbon. Click here for directions.
Accomodation
Due to the organization of the EURO 2004 in Portugal (June 10 - July 4, 2004), you are strongly urged to book your hotel room as soon as possible. Below you will find a list of hotels situated close to Instituto Superior Técnico (IST). Most hotels offer a special rate (including breakfast and taxes) to the participants of the event if referred to at the time of reservation.
How to reach your hotel from the airport
A taxi ride from the airport to any of the recommended hotels takes around 10 minutes and should not cost more than 10 EUR (including the extra charge 1,50 EUR for the luggage). Pre-paid taxi vouchers and information about the buses leaving the airport are available at the Turismo de Lisboa counter in the arrival area.
How to reach the venue
All recommended hotels are located at a short walking distance from the campus. For directions, ask at your hotel or check the local map below.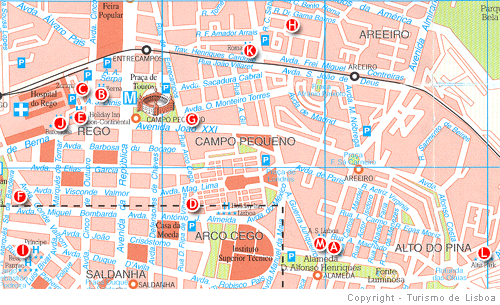 For any further information about Lisbon, click into http://www.atl-turismolisboa.pt.
Hotels and their rates for the participants
Single: 48.45 EUR
Double: 58.95 EUR

(A) HOTEL AS LISBOA
Avenida Almirante Reis 188
1000-055 LISBON
Tel. +351 218 429 360
Fax. +351 218 429 374
[email] [webpage]

Single: 53.00 EUR
Double: 58.50 EUR

(B) HOTEL BERNA
Avenida António Serpa, nº13
1069-199 LISBON
Tel. + 351 217 814 300
Fax. +351 217 936 278
[email] [website]

Single: 61.50 EUR
Double: 68.00 EUR

(C) HOTEL VIP ZURIQUE
Rua Ivone Silva, Nº 18
1050-124 LISBON
Tel. +351 217 814 000
Fax. +351 217 937 290
[email] [webpage]

Single: 80.00 EUR
Double: 90.00 EUR

(D) HOLIDAY INN LISBON
Avenida António José de Almeida 28A
1000-044 LISBON
Tel. +351 210 044 000
Fax. +351 217 938 374
[email] [webpage]

Single: 80.00 EUR
Double: 90.00 EUR

(E) HOLIDAY INN LISBON-CONTINENTAL
Rua Laura Alves, 9
1069-169 LISBON
Tel. +351 210 046 000
Fax. +351 217 973 669
[email] [webpage]

Single: 67.00 EUR
Double: 75.00 EUR

(F) HOTEL MARQUÊS DE SÁ
Avenida Miguel Bombarda, 130 1050-157 LISBON
Tel. +351 217 911 014
Fax. +351 217 936 983
[email] [webpage]

Single: 60.00 EUR
Double: 70.00 EUR

(G) HOTEL ALIF
Campo Pequeno, 51
1000 – 081 LISBON
Tel +351 217 826 210
Fax: +351 217 954 116
[email] [webpage]

Single: 65.00 EUR
Double: 75.00 EUR
Triple: 85.00 EUR

(H) HOTEL LUTÉCIA
Avenida Frei Miguel
Contreiras 5
1749-086 LISBON
Tel. +351 218 403 121
Fax. +351 218 407 818
[email] [webpage]

Single: 68.00 EUR
Double: 76.00 EUR

(I) HOTEL D.MANUEL I
Avenida. Duque de Ávila, 189
1050–082 LISBON
Tel. +351 213 593 010
Fax: +251 213 576 985
[email] [webpage]

Single: 65.00 EUR
Double: 75.00 EUR

(J) HOTEL BARCELONA
Rua Laura Alves, 10
1050–138 LISBON
Tel. +351 217 954 273
Fax: +351 217 954 281
[email] [webpage]

Single: 70.00 EUR
Double: 80.00 EUR

(K) HOTEL ROMA
Avenida de Roma, 33
1749–074 LISBON
Tel. +351 217 932 244
Fax. +351 217 932 981
[email] [webpage]

(L) HOTEL ALTIS PARK
Avenida Eng. Arantes e Oliveira, nº 9
1900–221 LISBON
Tel. +351 218 434 200
Fax. +351 218 460 838
[email] [webpage]