The event takes place at the Departamento de Engenharia Mecânica da Universidade de Coimbra located in Pólo II.
Accommodation
Due to the organization of the EURO 2004 in Portugal (June 10 - July 4, 2004), you are strongly urged to book your hotel room as soon as possible. Below you will find a list of hotels in Coimbra. Most hotels offer a special rate (including breakfast and taxes) to the participants of the event if referred to at the time of reservation.
How to reach your hotel from the Coimbra B train station
A taxi ride from the station to any of the recommended hotels takes around 10 minutes and should not cost more than 10 EUR (including the extra charge 1,50 EUR for the luggage).
How to reach the venue
For directions, ask at your hotel or check the local map below.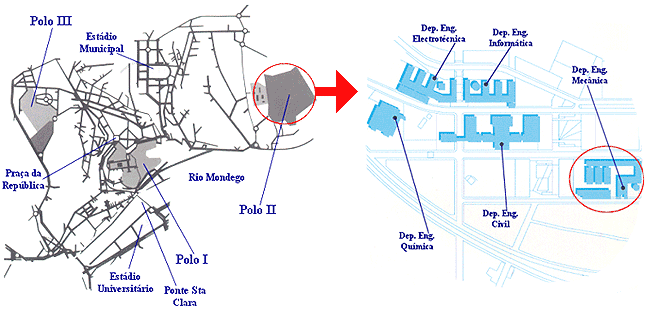 For any further information about Coimbra, click into http://www.turismo-centro.pt/english
Hotels and their rates for the participants
Single: 60.00 EUR
Double: 70.00 EUR

HOTEL ASTÓRIA
Av. Emídio Navarro
3000 COIMBRA
Tel. +351 239 853 020
Fax. +351 239 822 057
[email]

Single: 50.00 EUR
Double: 50.00 EUR

HOTEL IBIS
Av. Emídio Navarro, 70
Edíficio Topázio
3000-150 COIMBRA
[website]

Single: 59.00 EUR
Double: 69.00 EUR

HOTEL MELIÁ
Av. Armando Gonçalves Lt. 20
3000-059 COIMBRA
Tel. +351 239 480 800
Fax. +351 239 484 300
[email]

Single: 57.00 EUR
Double: 67.00 EUR

HOTEL TIVOLI
Rua João Machado, 4
3000-226 COIMBRA
Tel. +351 239 858 300
Fax. +351 239 858 345
[email] [website]

Single: 39.50 EUR
Double: 45.00 EUR

RESIDÊNCIAL ANTUNES
Rua Castro Matoso, 8
3000-104 COIMBRA
Tel. +351 239 854 720
Fax. +351 239 854 729
[email]

Single: 35.00 EUR
Double: 40.00 EUR

RESIDÊNCIAL BOTÂNICO
Bairro S. José, 15
3030-207 COIMBRA
Tel. +351 239 722 010
Fax.+351 239 405 124
[email]

Single: 51.40 EUR
Double: 60.85 EUR

RESIDÊNCIAL ALMEDINA
Av. Fernão Magalhães, 199
3000-176 COIMBRA
Tel. +351 239 855 500
Fax.+351 239 829 906
[email]