Análise Matemática Aplicada
---
Nesta área encontram-se textos de apoio aos dois Livros de editados pela MacGraw-Hill de Portugal, de que sou um dos autores (ambos os livros est;ão já disponíveis no mercado).
---
Se pretender saber qual o índice destes livros:

Ver índice do livro de exercícios
---
"Princípios de Análise Matemática Aplicada"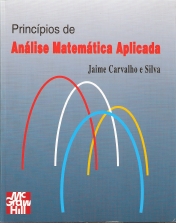 Aqui serão colocados textos esclarecendo dúvidas surgidas com a leitura do Livro e que me sejam colocadas por correio electrónico.

Suplemento (inclui os ficheiros em formato PDF)
E ainda uma errata periodicamente actualizada do Livro de Texto:
Ultima versão da Errata do Livro de Texto
---
"Princípios de Análise Matemática Aplicada"-Exercícios, Actividades, Complementos e Provas de Avaliação
Aqui será colocada a resolução de alguns exercícios não resolvidos no Livro.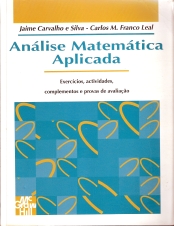 Se pretender ver a resolução de algum exercício em especial, escreva-me que prometo colocá-la aqui com brevidade.
E também uma errata actualizada do Livro de exercícios:
Ultima versão da Errata do Livro de Exercícios
---
Dúvidas de Análise Matemática
...existentes no Forum de Swarthmore (em inglês)

O índice geral da área de dúvidas está aqui: The Geometry Forum's 'Ask Dr. Math' Home Page. [Answers to K-12 students' questions provided by Swarthmore College math students and professors, volunteers who collectively assume the name Dr. Math, can be found here. Look especially for the the table of contents, which divides the questions (with answers) into four groupings: (a) Elementary, (b) Middle School, (c) High School and (d) College Level or Beyond. If you have a math question, you can check here to see if a similar question has been answered; the archive is searchable by keyword].
---
Fractais na Internet
Conforme é indicado em apêndice ao Livro de Exercícios é possível fazer imagens de fractais sem ter de estar a sobrecarregar o seu proprio computador ou a deixar o computador a trabalhar toda a noite. Na Internet existem programas acessíveis atravŽs do WWW, e que fazem todos os cálculos necessários muito rapidamente

Imagens de fractais usadas no Livro (em formato GIF)

Fractais interactivos:
Mandelbrot Explorer - An interactive web page to let you investigate the Mandelbrot set by zooming and setting the drawing area (Na Grécia)
Outros recursos relacionados com fractais:
---
Outros servidores com temas de Matemática relacionados
Eis ligações para servidores onde poderá encontrar coisas com interesse na área da Análise Matemática e suas Aplicações.
---

VOLTAR AO PRINCíPIO DE TUDO
---
Última alteração: 13 de Janeiro de 2004