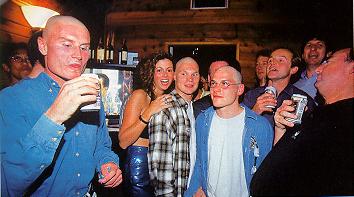 David Coulthard, Mika Salo and Jacques Villeneuve with their hair shaved off at the post-Suzuka 96 party.

Ticket info for the Portuguese GP / 96
Photos from F1 tests 13-12-95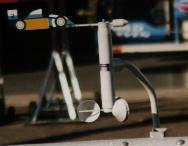 18-02-97
Another circuit seriously damaged in the name of security: Zeltweg, now A-1 Ring.
---
An alternate championship points scheme.
I want Friday qualifying back.
---
Computer simulations by Tyrrel:
---
"Denis Jenkison (alias 'DSJ' in the Magazine Motor Sport ) has a shortlist of the drivers he has most admired in each era: Alberto Ascari, Stirling Moss, Jimmy Clark, Gilles Villeneuve, and Ayrton Senna."
in "Villeneuve: The Life of a Legendary Racing Driver" - Gerald Donaldson (1989), Motor Racing Publications, Croydon, UK, ISBN 0-947981-44-6.
---
Statistics - Everything since 1950

Grand Prix Racing - the whole story
---
News
---
2000 Calendar and tracks -- 1999 -- 1998
---
FAQs and Miscellaneous
---
Other sites
---
Active Drivers
Inactive Drivers
---
Engine manufacturers
Technical pages
---
My home page.